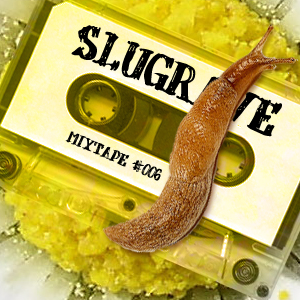 Disco space funk with a touch of ninja slugged folk! why it can only be Slugrave Mixtape 006.
Slugrave Mixtape #006 by slugrave
Slugrave Mixtape #006 – Side A
01. Space Ranger 'Herbal Cake'
02. Kouncil House 'Daddy'
03. Mark Rae 'Mind, Body and Soul'
04. Kraak and Smaak 'No More Crying'
05. DJ Vadim 'Thrill 103'
06. Wagon Christ 'Bend Over'
07. Nostalgia 77 'Changes'
08. Alice Russell 'Pushin on (Situation Edit)'
09. Mr Scruff 'Pickled Spider'
10. Leftfield 'Sword'
11. Cinematic Orchestra 'Evolution'
Slugrave Mixtape #006 – Side B
01. Kayla Scintilla 'Swamp Related'
02. Kayla Scintilla 'Inlakesh'
03. Kayla Scintilla 'Epic Synthisis'
04. Kayla Scintilla 'Arabian Boogie'
05. Kayla Scintilla 'Tribal Generator'
06. Mouldy Soul 'Wine and Shine'
07. Digital Rust 'Chocolate Sauce'
08. Opiuo 'Robo Booty'
09. Opiuo and Jay Wikid 'Panty Slingshot'
10. Neighbour and Spiltmilk 'Get With This (Opiuo Remix)'
11. Opiuo 'Freaky Bean'
12. Opiuo Ft. Sunmonx 'Water Mouth'
Also check out this interesting article, Slow It Down, about music going slow… features Kromestar, Darren Quest Henry, Jim Omunit Coles, Slugrave, Downliners Sekt, Tri Angle Records and so forth. Sexy!
oooze on and join the vibe …
Website | Facebook | Twitter | Soundcloud | Mixcloud | Last.fm | Spotify | Youtube | T-Shirts